Copenhagen Suborbitals is the world's only crewed amateur spaceflight program. We are located in Denmark with supporters across the world. From 2011 to the present day, we've designed and flown 6 rockets and capsules from our floating launch site in the Baltic sea.
Our goal is simple but audacious: to fly an amateur astronaut to space and return them safely to Earth.  A mission as ambitious as Alan Shepherd's first spaceflight – without any governmental or corporate backing. We seek to prove that any motivated group of people can reach space. If we are successful, Denmark, a nation of less than six million people, will be the fourth nation on Earth and the first in Europe to launch humans into space on a domestic rocket, joining the ranks of Russia, the USA, and China. When George Mallory was asked why he wanted to climb Mount Everest he replied: "Because it's there". We work to send an amateur into space because space is there to be explored.
Space starts at the Karman line 100 kilometres over sea level. We will launch our Spica launch vehicle from international waters to above the Karman line. After reaching apogee (the highest altitude in the flight), our capsule will re-enter the atmosphere and land by parachute in the Baltic sea.
Copenhagen Suborbitals is a crowdfunded non-profit organisation. We're a plucky group of fifty to sixty inspired volunteers. It takes a diverse team to build rockets – our staff includes blacksmiths, physicists, rocket scientists and software engineers, to name only a few of our dedicated specialists. We work in our spare time, around the margins of our workdays. Compared to commercial or government space programs, our budget would barely be a rounding error. Yet our non-for-profit nature breeds innovation. As of 2021, we are the only active Space Program to launch rockets from a floating launch site in International waters. National space agencies correspond with our team members. Our designs have inspired conventional spaceflight projects, and our innovations have helped newspace companies develop their own test processes.
Crowdfunding
Every engine, test and launch is funded by our intrepid fans and supporters. 100% of donations pay for our flight hardware, fuel, logistics, maintenance and assembly costs; every donation is used for the mission. Public contributions do not pay for our food, travel, computers, bills, clothing, insurance, or any other personal cost. Each donor is an essential component of the mission, receiving regular updates on our progress, access perks, and even the opportunity to send your name to space. Thank you for your support.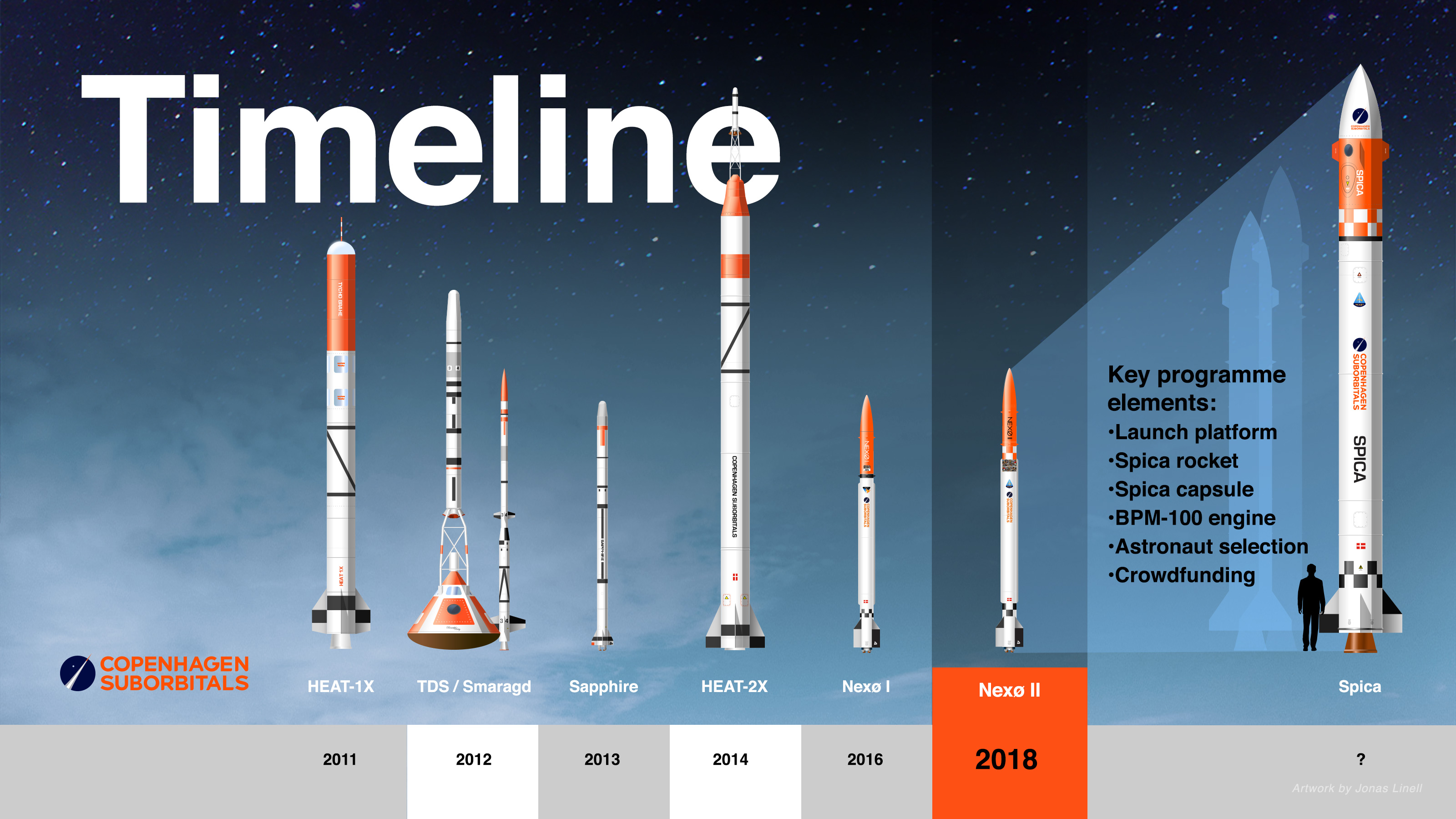 20XX
Spica X mission: Our first speculative crewed spaceflight.
2018
The Nexø II rocket is flown.
2016
The Nexø I rocket flies for the first time.
2014
The HEAT-2X rocket burns on the test stand during a static engine test.
2013
Our Tycho Deep Space capsule and Launch Escape System flew for the first time. The Sapphire rocket makes its first flight, testing vital control systems.
2012
The Smaragd rocket flies and the TM-65 Liquid rocket engine is test fired.
2011
HEAT-1X rocket & Tycho capsule fly for the first time.
2010
Our first failed launch attempt of the HEAT-1X rocket and Tycho capsule.
2009
Various hybrid rocket engines were test fired.
2008
Copenhagen Suborbitals was founded.
Facilities
Our headquarters and workshop is found in central Copenhagen, at a former shipyard on Refshaleøen, in a large building originally used for painting ships. We call it HAB (or Horizontal Assembly Building), in reference to the famous VAB (Vehicle Assembly Building) at Kennedy Space Center, USA. HAB provides us with 630 m2 floor space and a 10 m tall ceiling, divided in two separate workshops.
Launch site
We fly our rockets from the military firing practice area ES D 139, in the Baltic Sea, 20 km east from the Danish island of Bornholm. The range, spanning 70×35 km, is opened to us by the Royal Danish Navy for the duration of the launch window. The Danish and Swedish authorities are very helpful , closing the airspace above the range during launch tests. Our mission base can be found in the seaside town of Nexø, on the eastern coast of Bornholm. We affectionately call this town "Spaceport Nexø"!