Nexø I rocket mission page

See the video from the launch below

See our first short video about the launch here:

See the complete stream here:
The next video in the Current Affairs series is about the Bachelor thesis project of our Dutch engineering intern Jop…

This is the first part in a series where we will show you our rocket workshop. Please enjoy!

We are trying out a new format - A short vlog about the progression of the current projects at Copenhagen…

The Nexø slipway is scheduled to take the Vostok onto land on March 29th, 2017. We have had the Vostok…

Launch completed

Nexø I launched on July 23rd

See the Nexø I flightplan here.

Press:

Download the Nexø I press release and images here.

Press contact: Mads Wilson, Chief Communication Officer.
About the Nexø I rocket mission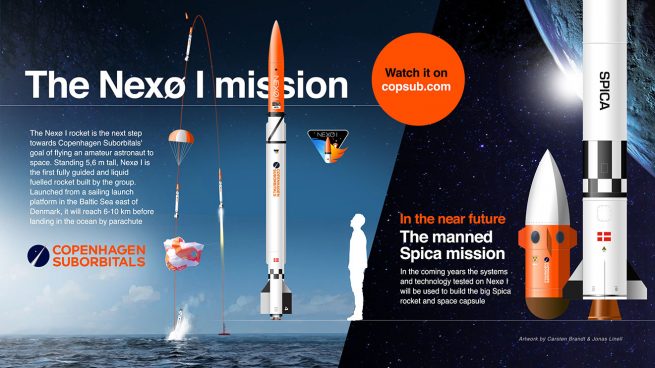 The Nexø I rocket is the next step towards our goal of flying an amateur astronaut into space. Standing 5,6 m tall, it's our first fully guided and liquid fuelled rocket, It demonstrates systems like thrust vectoring and ballute/parachute descend, Launched from our sailing launch platform in the Baltic Sea east of Denmark, it will reach a 6-10km before landing back in the ocean by parachute.In the coming years the systems and technology tested on Nexø I will be used to build the big Spica rocket and space capsule.
| | | | |
| --- | --- | --- | --- |
| | | | |
| Final adjustmens of the ballute and parachute before launch of the Nexø 1 rocket. | Final adjustmens of the guidance system before launch of the Nexø 1 Rocket. | NEXØ 1 Sea Acceptance Test 2016 | CS Flotilla 2016 |
Nexø I on it's launch rail onboard MLP Sputnik, seen at the Sea Acceptance Test (SAT) recently in the Copenhagen harbour. Click to enlarge.
Mobile Launch Platform Sputnik with Nexø I with Command and
recovery ship M/V Vostok in the background, seen at our HQ in Copenhagen. Click to enlarge.
Infographic showing Spaceport Nexø on the island of Bornholm, the launch site EDS139, and some of the mission ships. Click to enlarge.
---
Key mission events
T – 6 hours: MLP Sputnik with rocket attached to launch tower departs Spaceport Nexø, eastbound for sea launch zone ESD139.
T – 3 hours: All ships at assigned positions in launch zone
T – 25 mins: All aircraft airborne at holding positions
T – 0: Lift-off
T + 2 mins: Nexø I descending under main parachute. Aircraft and recovery shps track and deploy toward splashdown position
T + 3 mins: Nexø I splashdown
T + 20 mins Nexø I rocket and parachute are hoisted up in cradle on M/S Vostok's deck.
T + 5 hours: All aircrafts back at airstrip. All ships back in Spaceport Nexø
---
See the Nexø I rocket in detail
See our page with the Nexø I rocket information in all it's glorious detail.